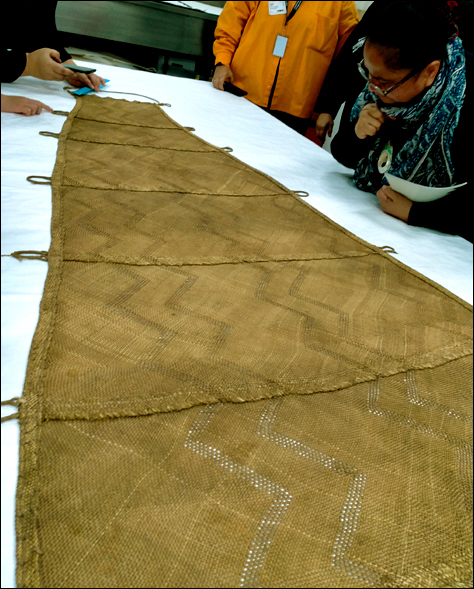 Te Rā, the only known surviving example of a traditional woven Māori sail still in existence is visiting Aotearoa New Zealand. As I and two other weavers from Te Āwhina roopu raranga (weaving group), Motueka, are about to embark on a project to weave a sail for a local waka (boat) business, we were keen to study this sail up close. We heard that the sail would be available to view at the Christchurch Art Gallery, so we quickly booked tickets to fly down to Ōtautahi Christchurch for a day visit. The sail, named Te Rā and personified as female by distinguished master weaver Ranui Ngarimu, has been in the British Museum for over 200 years, her provenance unknown.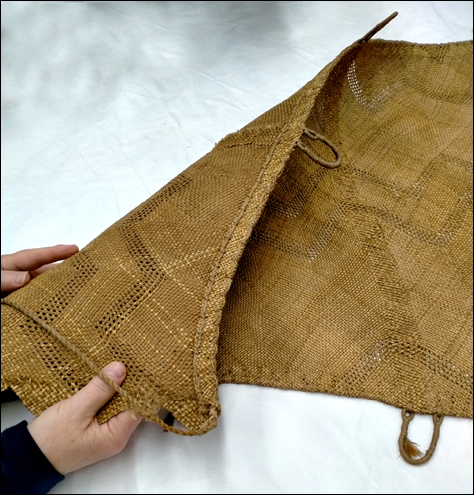 At the art gallery we were taken into a private study and work area where the sail was laid out on a long set of tables. What struck me at first sight was the beauty and fineness of the weaving, the width of the weaving strips being between 0.3cm and 0.4cm, unusual for such a large piece of weaving. For a piece that is 4.4 metres long, 1.0 m across the base and 30 cm across the top, this is a lot of fine weaving. Stripes of an openwork pattern running the length of the sail enhance the plain over/under weaving, adding to its delicate appearance.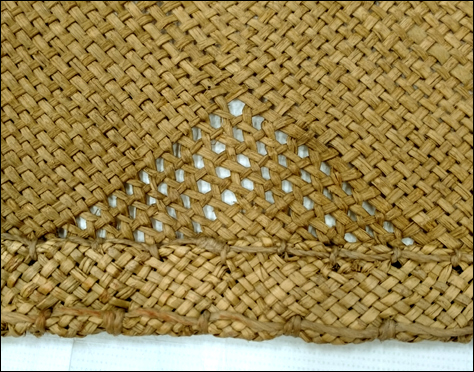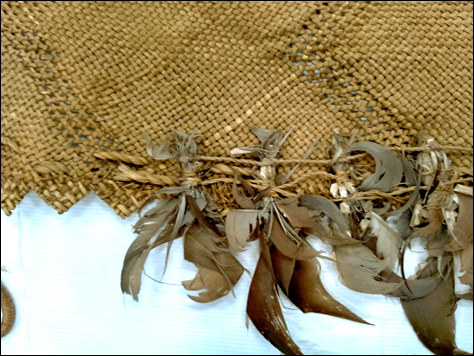 As we were able to see and handle both the front and the back of the weaving, we were able to study techniques that have either fallen out of use or were used specifically for the sail. For example, the edges are finished with a twice-folded hem which is stitched in place with twisted harakeke (NZ flax) cord, the panels are joined in an unusual way, and various types of cord are used to tie on the feathers. This was good information for our group as we work on weaving the replica sail.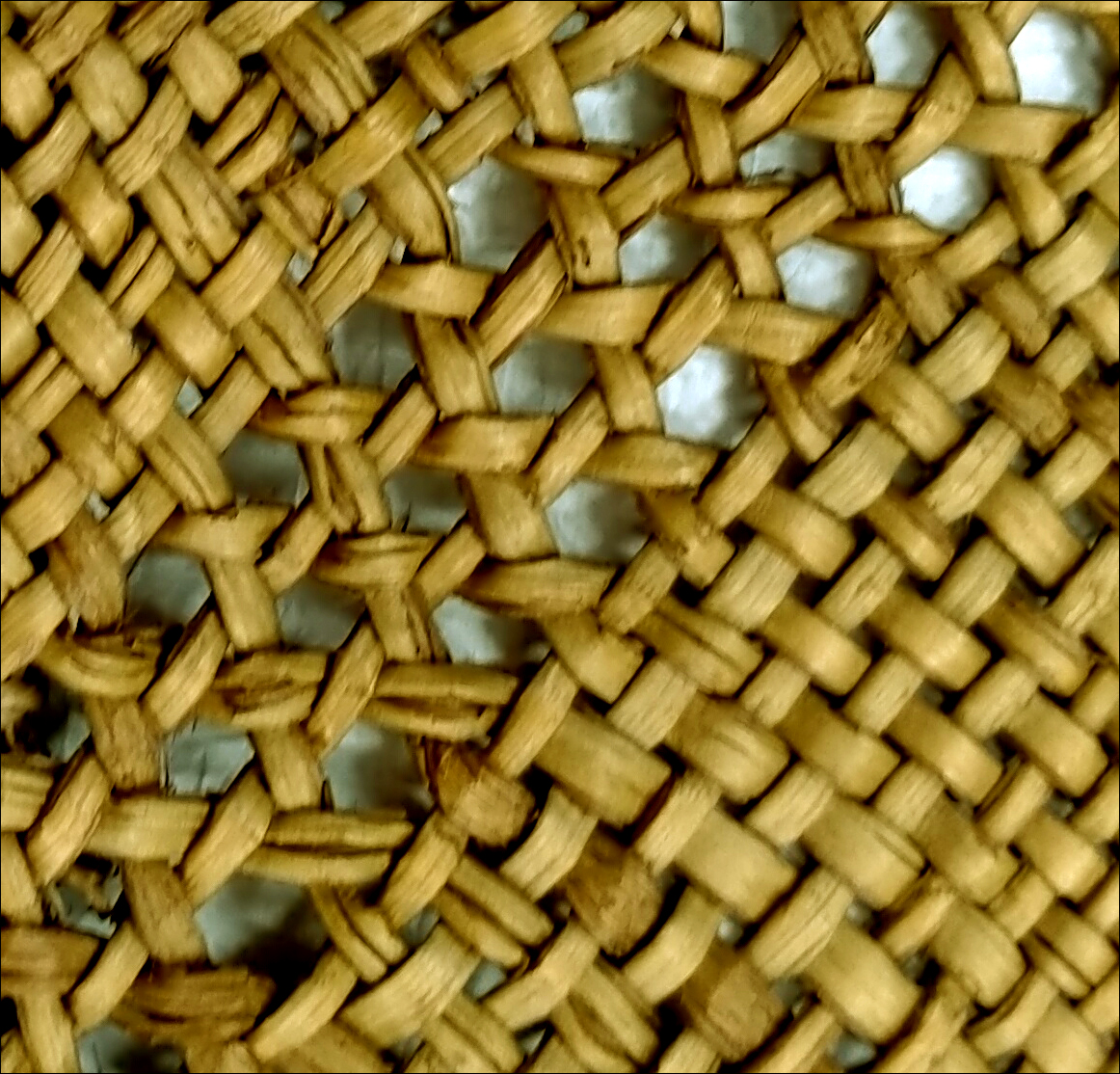 A number of other weavers and interested people, such as sailors and artists, were present to learn how this ancient sail has been woven, perhaps for the sake of weaving a sail themselves, or perhaps to use a technique in other weaving.
For all this study and replication, Te Rā remains a mysterious lady. Whose hands wove her? Where was she woven, was she used on a waka (boat)? If so, which winds did she embrace to speed the waka across which waters? Her fineness gives her an aesthetic and delicate beauty. This, plus her utilitarian, robust purpose make her an 'artwork extraordinaire', as Ranui Ngarimu describes her. Te Rā is a true taonga (treasure) with huge mana (bearing, influence, status) and significance for Aotearoa New Zealand.
To see a waka in full sail, using sails of similar shape to Te Rā but made with modern materials, is breath-taking, as I discovered when I saw similar sails on the waka hourua Haunui pictured here in Picton in 2019 as part of the Tuia 250 voyage.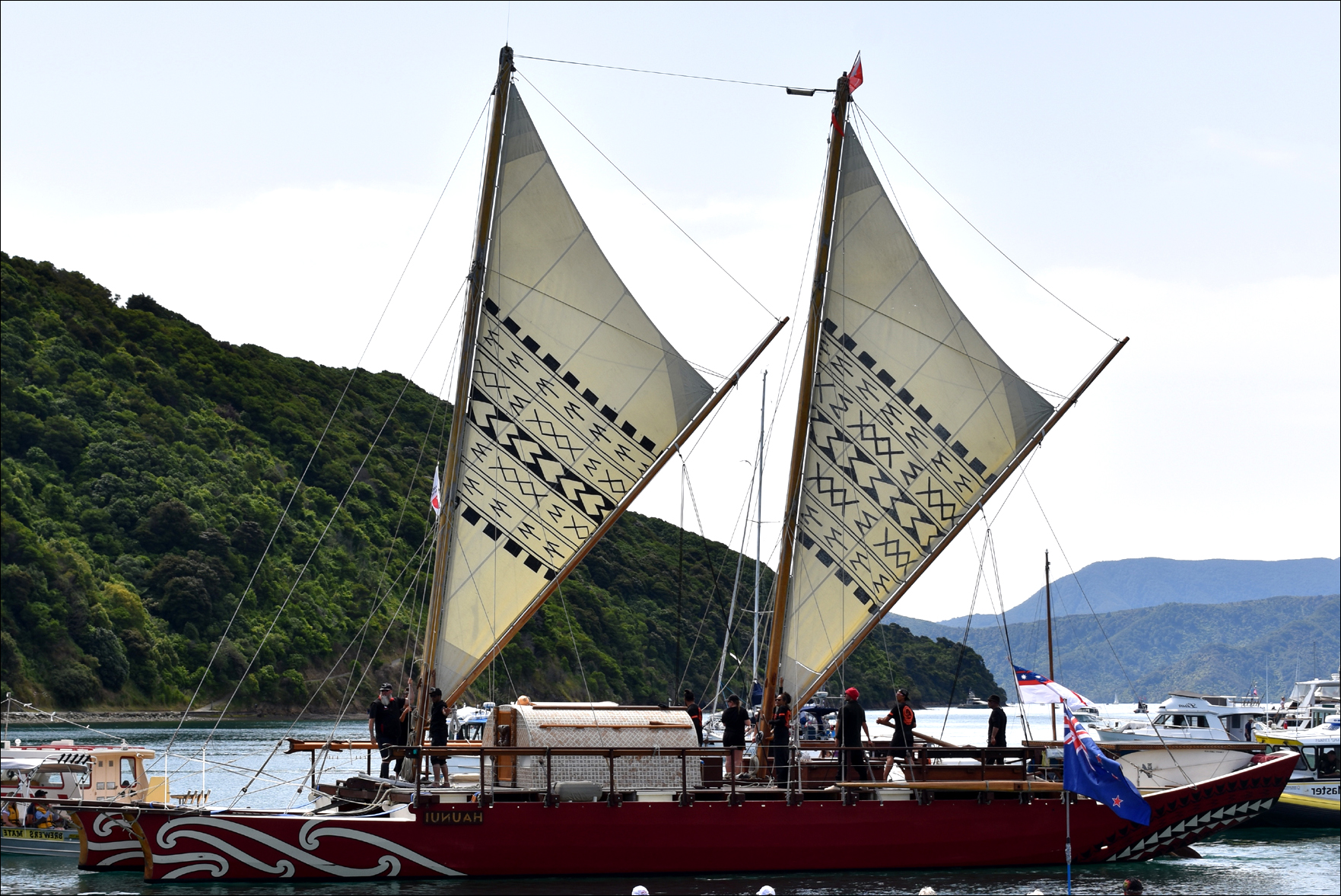 The opportunity to see Te Rā and study her has given huge impetus to weavers throughout Aotearoa to build on the work others have started in revitalising the cultural knowledge of traditional woven harakeke sails. To see waka with woven harakeke sails plying our waters as a natural scene is a future I look forward to.
I appreciate the efforts of Ranui Ngarimu, Donna Campbell and Catherine Smith who were instrumental in bringing Te Rā home to Aotearoa for those interested to appreciate and study her. This group has been studying scientific as well as practical weaving aspects e.g. they have definitely identified the material as harakeke by DNA testing and have closely studied the techniques used in weaving Te Rā. A second group, Te Rā Ringa Raupā, including Maureen Lander who instigated it, Ruth Port, Mandy Sunlight and others, have studied the construction methods and recreated their own sails.
Te Rā is on display at the Christchurch Art Gallery, Te Puna o Waiwhetū from 8th July to 23 October 2023 and then at Tāmaki Paenga Hira Auckland War Memorial Museum. You can also read more about Te Rā here.
Scroll down to leave a new comment or view recent comments.