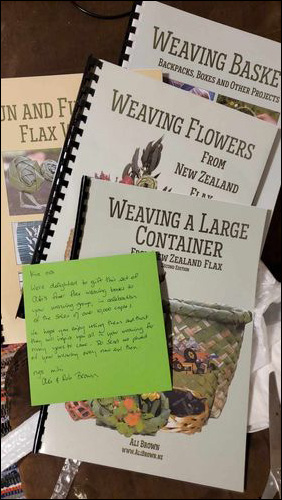 In my last post we offered, in celebration of the sales of over 10,000 copies, a free set of my four current books to three flax weaving groups. I am humbled and thankful for the feedback I have received about the books from many weavers since I published my first flax weaving book in 2009, and we were keen to share the success of the books with the weaving community. We did initially think the books would go to groups that may have lost resources in the northern floods, but had contact from new groups starting out, and groups working in the community as well as those affected by the floods. We're delighted to announce the three groups who we chose for this giveaway have all now received their sets of books.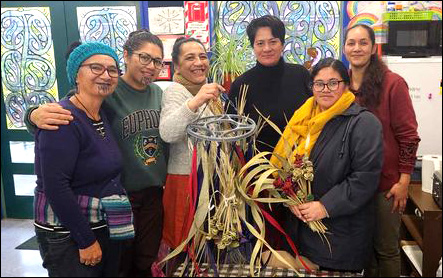 The first group is a group of eight learner weavers, who are all staff at Te Kura Kaupapa Māori o Te Ara Hou in Ahuriri / Napier, Hawkes Bay. Misty Hooper, at the back right in the image, applied on behalf of the group and says that their group just started this year and they meet monthly. We hope the books will guide you in your weaving and I look forward to seeing your weaving as it progresses.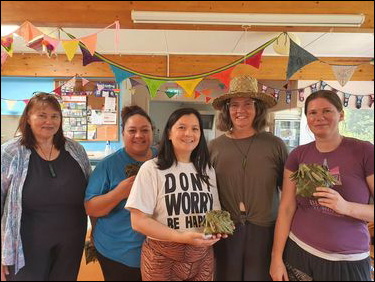 The next group is from Tāmaki Makaurau / Auckland. Cathy, wearing the pōtae, wrote, "I run a group called Weavers and Makers at the Gribblehirst Hub, the monthly evening group and weekly groups are run for free. It would be amazing to have your books as a resource. My house was flooded in January and I lost all my raranga visual diaries." Cathy studied raranga at Te Wānanga o Aotearoa and donates proceeds from some workshops to charity.
The third group is based in Te Whanganui-a-Tara / Wellington. Irihāpeti Hokianga Te Aho, on the right in this photo, wrote "I offered to run four weaving sessions, and due to their desire and having no funds, I was able to get the support of The Tuhunga Rau and Raukawa community centre to have a weekly free Sunday weaving session. I am offering my time for free … and am here to guide them in connection to harakeke and learn what they would like to learn. It is real beginners, but we do have a few advanced weavers in the mix."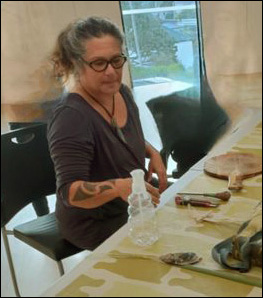 Kenney Jean wrote in support of their application "It is the most beautiful atmosphere of people ranging from the curious to the 'I've always wanted to try', to proficient weavers, and every thing in between. It's the first time there has been a gathering like this on Motukairangi / Miramar Peninsular. EVERYONE who attends would LOVE to be able to dip into your taonga pukapuka. Its a kind, safe space to explore ones journey into mahi raranga." What a great-sounding roopu raranga this is.
It gave us great pleasure to send the sets of books to these groups to use with their flax weaving / raranga. We do hope they enjoy using them and find them helpful, as many have done before them. If you don't have your own copies of my books, your local library may have them. If they don't, you can put in a request for them to buy them. They usually do. Also, you can purchase the books singly or in a set through my secure online shop.
Scroll down to leave a new comment or view recent comments.