29 July 2013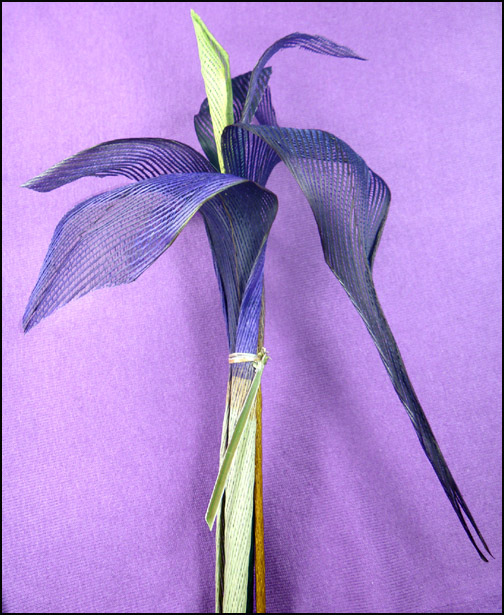 While preparing a third edition of my book, Weaving Flowers from New Zealand Flax, I experimented with making flowers from netted flax, and the new edition now includes several netted-flax designs. Making netted flax with a pasta machine was discovered by Christall Rata and she gained a patent #336288 in 10 Jun 2002. Sema Morris from Artiflax later acquired patent and it lapsed on 15 Sep 2013, expiring on 15 Sep 2020. A variety of differently processed netted leaves and bouquets including netted flax are for sale from Artiflax and there are instructions for making your own netted flax on this page of my website, as well as in my book Weaving Flowers from New Zealand Flax.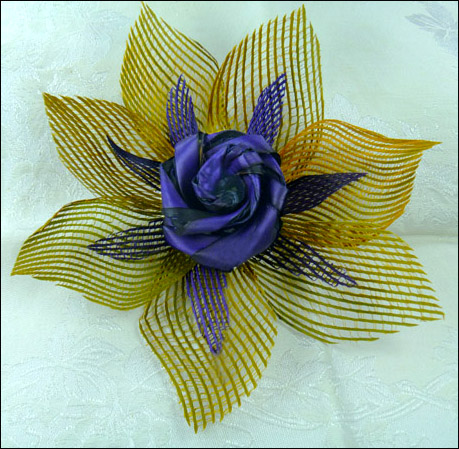 It's fun experimenting with netted flax because it can be manipulated in a wide variety of ways to make a range of delicate flowers which are quite different from flowers woven with un-netted flax. The Iris, Daisy and Tulips pictured here are all made from dyed netted flax. The Iris is simple to make and takes just a matter of minutes once the flax has been dyed, and the result is almost instantaneously rewarding. There are several different ways that the Iris can be shaped, and there are also different ways that the Daisy can be made. The version shown here combines a flower woven from un-netted flax — which I call a Tropical Rose in my book — with netted flax, which changes the look of the Tropical Rose completely. The Daisy can also be made without an un-netted flax flower in its centre, and more layers of netted petals can be added, opening up creative possibilities.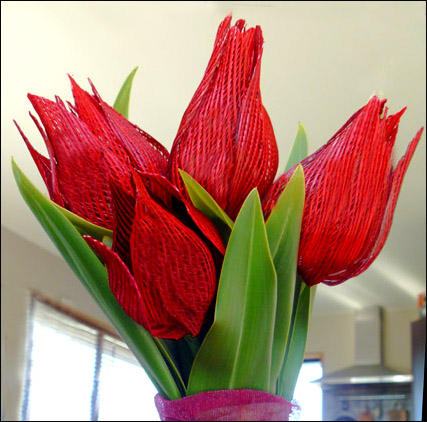 The Tulip is more structured and takes more time to make but I think the results are worth the effort. As well as including instructions for weaving netted-flax flower designs, the third edition of Weaving Flowers from New Zealand Flax includes a new section on flower arrangements for weddings and events. The book is now printed double sided on 100 gram paper, which is more robust. All the information about buying the book directly from me is on the online Shop page of this website.
Scroll down to leave a new comment or view recent comments.

Also, check out earlier comments received on this blog post when it was hosted on my original website.