9 November 2013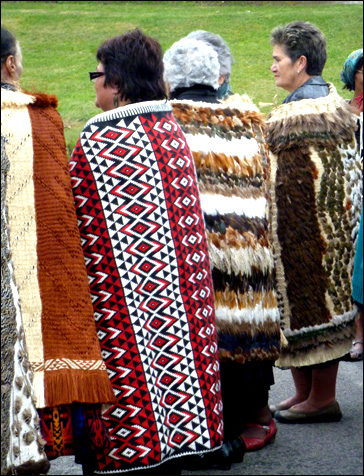 Te Roopu Raranga Whatu o Aotearoa, the Māori weavers' association of New Zealand, hosted a national gathering, or hui, recently at Kawerau as part of their Biennial General Meeting. A number of participants wore woven cloaks to the customary welcome ceremony, or pōwhiri, which took place at the start of the gathering. Most of the cloaks shown here were woven in a traditional style, incorporating different coloured blocks or bands of feathers into the design. The striking red and black cloak was woven with the Tāniko method of twining coloured threads of flax fibre together in geometric patterns.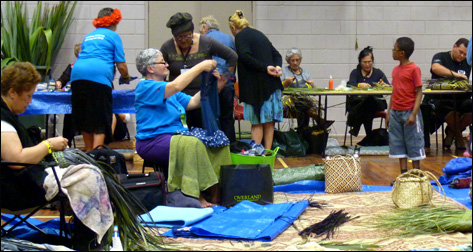 Approximately two hundred weavers from throughout New Zealand participated and, as this was the first national weaving gathering I'd been to, I was very interested to see all the diversity and originality of the work people were doing. Cloaks, different types of baskets, mats, hats, flowers, containers, skirts, bottle covers, tiny decorative kete, hair pieces and more were in the process of construction. No formal workshops were held at the gathering but weavers shared ideas and techniques and learned from each other.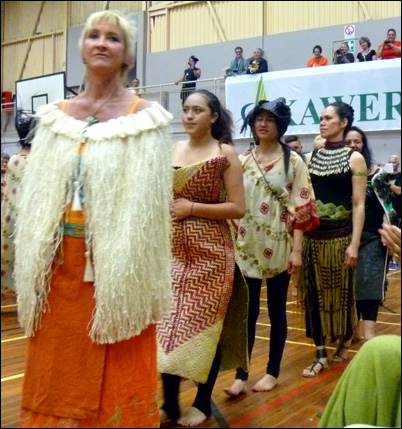 One of the highlights of the weekend was the Wearable Arts Fashion Show, which offered weavers an opportunity to showcase their own creations. Many of the people I talked to were formally studying Māori arts at tertiary institutions and a number were exhibiting in the show alongside more experienced weavers.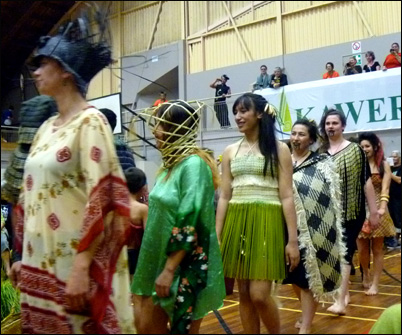 The students, ranging across all ages, wove some innovative entries, including several wacky hats, for the fashion show. One particularly unusual hat was woven right around the model's head so it's no wonder the show was a bit late starting!
Although most participants were using New Zealand flax, or harakeke, some weavers were using different materials such as corn husks, jute, cotton threads, raffia, fine wire and other plant materials.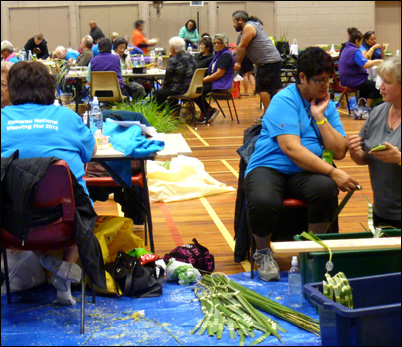 One group was using pīngao, a native golden sand sedge, which they had ready access to from the northern beaches near their home. (Pīngao is not readily available on southern beaches). In particular, adding feathers into garments, from birds such as rooster, pukeko and pheasant, was a popular theme. The sources of feathers include plucking feathers from road-kill birds, collecting feathers from bird-keepers, buying exotic feathers online, or buying them in packets from local craft suppliers.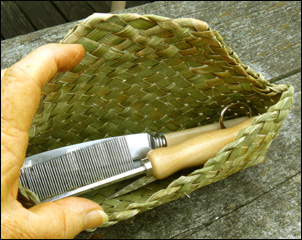 The host group supplied flax for visitors and I used this to weave a small basket to hold the weaving tools I'd taken but didn't have a container for. I made the basket with 36 strips of flax .75 cm wide, and gave it four corners to provide enough space for the tools.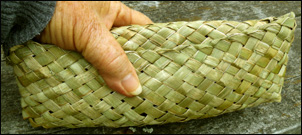 The flap tucks in to keep the tools in place, and is flexible enough to fold out so that the tools can be removed. At 20 cm long by 5 cm wide, it's compact enough to fit into a small space in airline luggage.
The 2015 gathering will be held in Ahipara in the far north of New Zealand. For information contact Toi Māori Aotearoa.
Scroll down to leave a new comment or view recent comments.

Also, check out earlier comments received on this blog post when it was hosted on my original website.