8 December 2013
It was an inspiration to be with a large group of weavers at the national gathering that I wrote about in the last post, and to talk with them about different weaving projects they were working on. Here are just a few of the weavers I spoke to.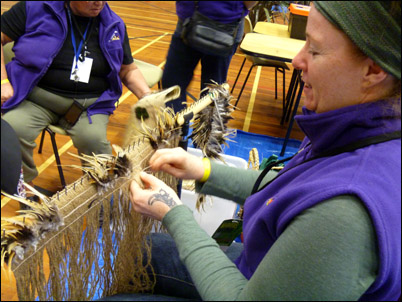 Jute, cotton and raffia aren't traditionally used in Māāri weaving but these materials were being used by Lisa Smith from Ahipara to weave a cloak for one of her sons. Lisa used jute for the warp threads and a finer cotton for twining the weft threads. Black tags made from raffia found in a $2 shop were added as the twining progressed and decorative panels were made with the addition of coloured tail feathers from a rooster. Lisa used a frame to support the weaving and added the feathers upside down so that they didn't get in the way of the weaving. Being a busy mum, Lisa has overcome the time consuming task of preparing materials with her imaginative use of bought threads.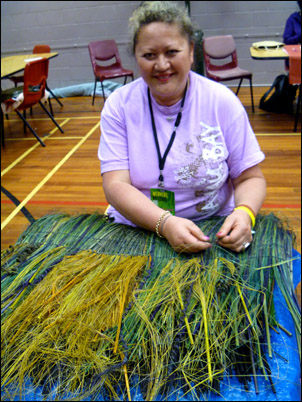 Paretio Ruha from Waihau Bay chose the legend of the creation of pīngao as the inspiration for the cloak, or rapaki, she was weaving as part of her studies of Māori art at Te Wananga o Aotearoa Rahui Pokeka in Huntly. In the legend, Tangaroa, God of the sea, was angry with his brother Tane, God of the Forest, for separating their parents Papatuanuku and Ranginui. To appease Tangaroa, Tane offered him his eyebrows. Tangaroa became angry at this offer and threw the eyebrows back up onto the beach where they sprouted and grow today as pīngao. Paretio has used blues and yellows in her cloak to symbolise the realms of water and land, purple to represent seaweed, and has plaited yellow curls to symbolise the eyebrows.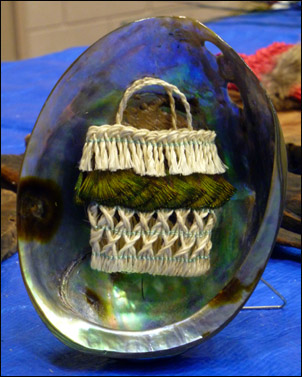 Bev Vellenoweth from Ōpotiki specialises in weaving with fine fibre, or muka, creating tiny baskets like the one shown here inside a paua shell. She uses fine jewellery wire for a twining thread to hold the fibre together, and to give structure and shape to the article she is making. Bev's entry in the fashion show featured a dress with a fine fibre bodice and a skirt made with thin flax cylinders dyed a pretty soft green. Bev uses both naturally coloured and dyed fibre to make her little baskets which she exhibits widely and has won a number of awards for.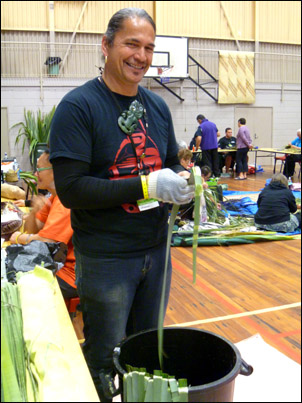 Karl Leonard is an experienced skirt, or piupiu, maker and well used to preparing flax strips for these garments. Using a long ruler marked at different lengths as a guide, he cuts the flax halfway through on the back of the strips at each guide mark. Next he separates the green flesh of the leaf from the fibre in between the cut parts on the leaf. Karl advises that when preparing strips for patterning in this way, it's important to keep the leaves damp as the fleshy part strips off much easier when the leaves are moist. To complete the preparation for piupiu making, the strips are boiled and hung up to dry where they curl into cylinders. The strips are then ready to be braided onto the waistband and dyed. When flax prepared in this way is dyed, the dye adheres to the fibre and not to the unscraped flax, making dyed and undyed blocks on the cylindrical strips which create the pattern.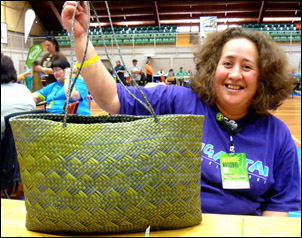 It was good to meet Felicity Champion at the gathering as we have corresponded over the years and Felicity has promoted my book to her weaving students. Felicity brought along a basket that she had woven using two different greens to make the pattern. Using colour in this way is very attractive and results in a subtle, natural blend of colours that I find very pleasing to the eye. Felicity's basket caught many people's admiring attention as they passed by.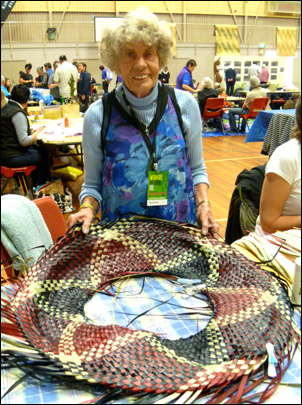 Marie Flavell's choice of weaving was a circular piece which she started and completed over the weekend. She started with a plait, adding in a number of red, black and natural coloured strips in a particular sequence and, as she wove, a pleasing flower-like pattern emerged. To make a circular piece like this, add the strips to the plait two or four at a time, overlapping them as they are added. This allows for the weaving to be curled around. Marie mentioned that her favourite weaving flax is Raumoa as she finds it soft and supple to weave with. Landcare Research describe this cultivar as having soft leaves with a good fibre content, and which dries to a very white colour when boiled.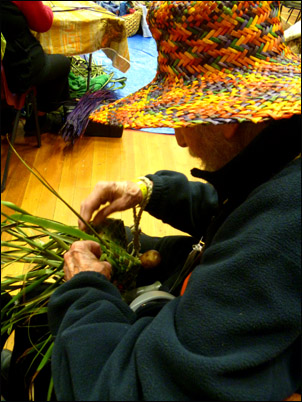 Chris Bradshaw from Matata, a guest of honour at the gathering, has specialised in weaving hats, or pōtae and it was interesting to see the different style of hat that Chris wore each day. The hat pictured here is started at the crown using a method that is often seen for the start of the base of a container with pointed feet, in weaving from Asia. Another of Chris's hats was woven with pīngao leaves, the fluted ends of the pīngao leaf, where it is pulled from the plant, being used as a decorative feature at the edge of the brim. I enjoyed seeing the variety of hats that Chris had woven and plan to make a hat for myself over the Christmas break.
Meeting other weavers at a national gathering and seeing the different items they are creating with their weaving is both educational and inspirational. I would suggest to anyone interested in flax weaving that it would be worth attending the next national weavers' gathering to be held in Ahipara in 2015. For information contact Te Roopu Raranga Whatu o Aotearoa.
Scroll down to leave a new comment or view recent comments.

Also, check out earlier comments received on this blog post when it was hosted on my original website.