6 July 2014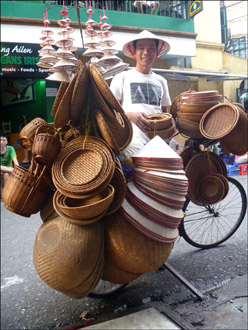 I spent some time in Vietnam recently enjoying the company of my eldest son and his partner as they cycle from New Zealand to Ireland. One of the ways I gain inspiration for my own weaving is by picking up ideas from other cultures, so I was particularly interested in the wide range of baskets found in everyday life in Vietnam. Bamboo, cane and rattan are the main materials used and although these have a stronger structure than NZ flax, some of the weaving ideas could be used with flax.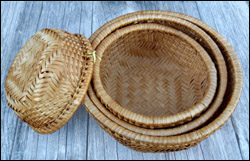 A set of baskets that I purchased from this street vendor are typical of one of the commonest styles of baskets in Vietnam. The baskets appear to be made by weaving a square with a loose twill weave, with four or even five strips being crossed in one weave, then filling the sides with smaller strips pulled up into a semicircle, and then drawing the corners of the square together to make the bowl shape. Unique basket boats are made in a similar style although they are are constructed by weaving a square which is then moulded into the bowl shape around a circular frame. They are made water-tight with a covering of water buffalo dung and waterproofed with another coating of a sealant material.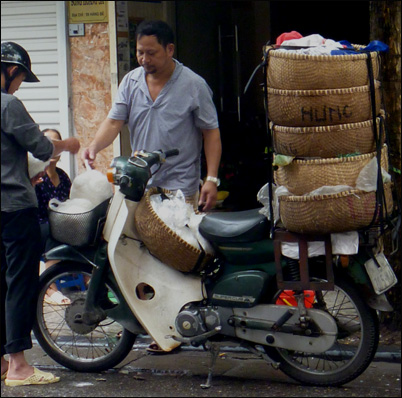 Larger versions of the baskets I bought are often tied several baskets high on the carrier of a bike or motor scooter for transporting goods. This noodle seller piled rice noodles into large baskets, covered the wobbly piles of noodles with plastic and then tied them on his bike for delivery. He was a popular seller in the early morning as noodles are often eaten for breakfast, with rice being eaten later in the day.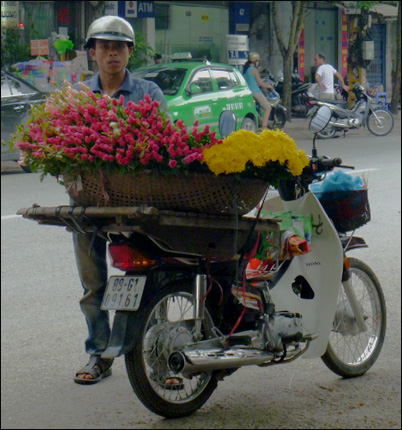 Other street vendors, selling everything from fruit and vegetables, to brooms, clothes, ceramics and cooked food, use a flatter style of basket carried on the back of a bike to display their wares. Bunches of little rose buds and other flowers are displayed to advantage on the large flat basket of this vendor. Others used the large flat baskets to hold little charcoal cooking stoves that could easily be set up anywhere for cooking food to sell. The large flax container, or waikawa, woven with whole flax leaves, can be used in a similar way to display wares, especially if the sides of the basket are kept low. (My book Weaving a Large Container from New Zealand Flax has instructions for this type of basket and can be purchased directly from me for $15, which includes postage and packaging, using direct credit as outlined on my online Shop page.)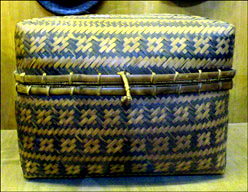 While in Hanoi I visited the Museum of Ethnology which presents the domestic culture of six of the major groups that comprise the Vietnam population. This attractive woven box caught my eye. It is has a diagonal weave and incorporates a pattern that is reminiscent of patterns used in traditional flax weaving.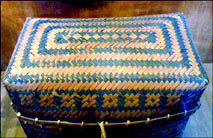 Although it is woven from rattan, this style of box container could be woven in flax. I particularly like the way the pattern is worked on the top of the container. It appears to have been worked by weaving one quarter of the square first and then weaving the other three sides of the square around to meet back at the first one.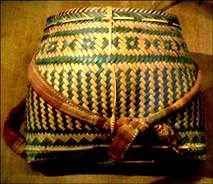 Again, the patterning on this basket, with its vertical and horizontal twills, could be worked as the pattern when weaving flax. In fact it's quite likely that it's already been used, not as a copy, but independently, as the patterns I saw in the museum are very similar to those used in traditional Maori weaving. I particularly like the way this basket is shaped.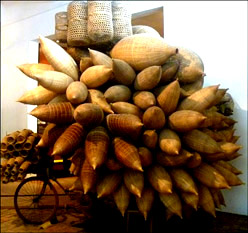 I saw a variety of other types of weaving, one of the most spectacular being these fish traps stacked high onto a vendor's bicycle. The traps, woven with thin strips of bamboo, are similar to the traditional Maori traps woven from manuka stems and supplejack vines.
Incidentally, I made sure the baskets I brought back were very clean and I declared them to Customs on my return to New Zealand. The customs officer inspected them closely for eggs and, finding none, allowed them into the country.
Scroll down to leave a new comment or view recent comments.