25 February 2012

Flax leaves are a popular and versatile addition to floral arrangements, irrespective of whether the flowers are picked from the garden or are woven from flax itself. Modern hybrid flaxes come in a variety of different colourings and are often used by florists in commercial floral displays. Flax can be dried into long thin rods and used to give height to a display, it can be netted to give a lacy effect in a display or it can be woven to make a foliage design rather than a flower. It can also be shredded into long strips and used to add a sense of movement to a display.
Shredded flax adds a light and airy dimension. It's simple, easy, takes very little time to prepare, and can add a variety of interesting shapes and movements to a display. The thin mid-rib piece of flax that is stripped off a leaf before weaving can be used for shredding.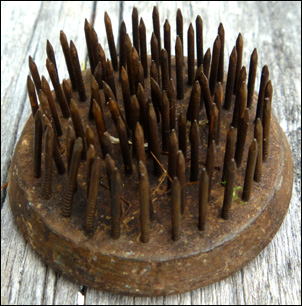 It's ideal for this purpose as one end is the hard base of the leaf, which makes a strong stem. It's also a way of using up pieces of flax that are usually seen as waste. Shred the flax with a strong dog comb or one of those spikey florist's bases that is used in the bottom of vases to hold stalks in place.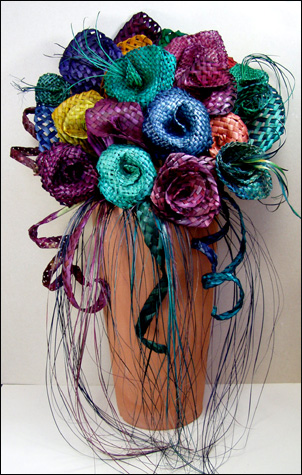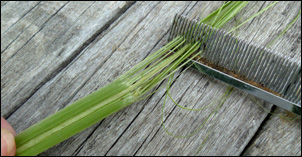 Take the mid-rib piece and shred the flax from where the flax joins together down to the tip of the flax. Run the comb along the flax piece several times until it is evenly and reasonably finely shredded. This can be added to an arrangement as it is, or it can be dyed to give some colour and movement to an arrangement, as illustrated in the flax flower arrangement here, where the shredded flax flows gently down from the flowers, adding a softness to the hard edges of the pot.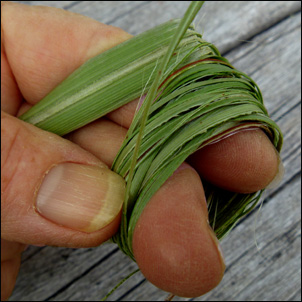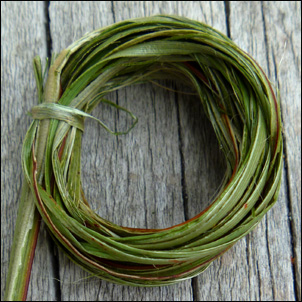 Another way of using shredded flax is as a tight circlet or as softer flowing curls, as illustrated in the bouquet at the top of this post. To make the tight circlet, smooth the shreds together so they become a smooth rope and then wrap them around your fingers so they make a ring.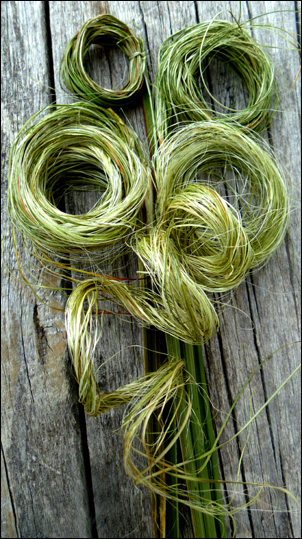 Keep wrapping until all of the flax rope is wrapped into the ring. Tie the ring of flax in place around the stem with a fine piece of flax to make a circlet or circlets for a display, or hold the wrapped circle in place with the tie or a peg until it dries. Once dried, undo the ties and gently tease the curls out until they fall in soft ringlets or waves. The curls are attractive when the shreds are left together in bunches and are just as attractive when separated out for a finer effect.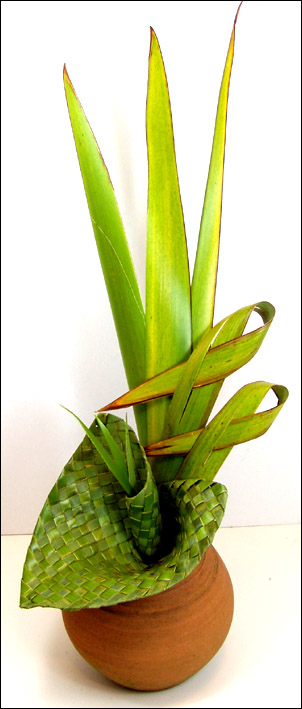 Florists often use the coloured variegated flax for foliage but green flax can be just as decorative. If it is featured as a straight leaf, it can give a strong structural quality to a display. By contrast, if it is curled around, it can give a soft, voluptuous quality.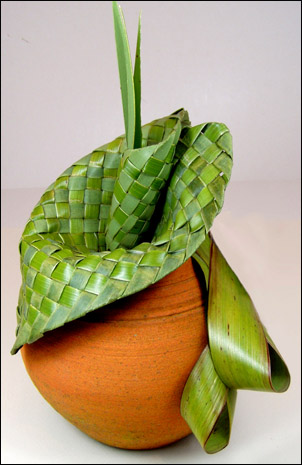 Because of its structural qualities, flax foliage is particularly popular in Ikebana arrangements but it suits all kinds of displays and is used all over the world in floral displays. There are many ways flax can be used in floral arrangements, and some additional ideas on using flax as foliage can be found in my book and on this blog post. If you have any other ideas for using flax as foliage, do send me images of them to share on this blog post.
Scroll down to leave a new comment or view recent comments.

Also, check out earlier comments received on this blog post when it was hosted on my original website.