8 August 2011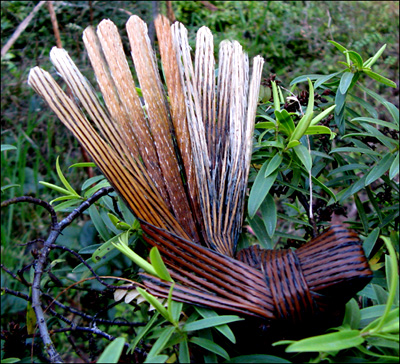 This woven flax fantail — or Piwakawaka, a native bird of New Zealand — is an adaptation of a common woven bird design, and I've placed the instructions for weaving it on a separate web page, Weaving a flax fantail, because they are too long for a blog post. Weaving the flax fantail is reasonably straightforward, and it's fun to see the bird take shape as you weave.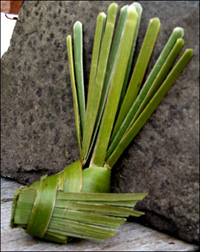 Once the final touches of cutting the wings and tail feathers are completed, there'll be a cheeky, flighty, little fantail for you to enjoy. For the fantail shown above I dyed the flax to match the fantail's own colours and netted the flax to give it a feathery look, although the fantail is still cute if it is woven without dyed or netted flax. However, if you do want to use netted flax, Weaving a flax fantail includes instructions for netting flax, and some notes on weaving the fantail with netted, dyed flax.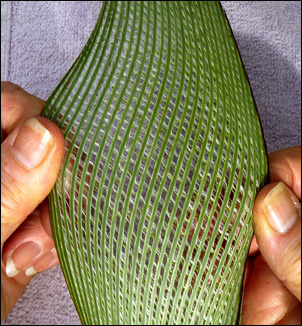 Making netted flax with a pasta machine was discovered by Christall Rata and she gained a patent #336288 in 10 Jun 2002. Sema Morris from Artiflax later acquired patent and it lapsed on 15 Sep 2013, expiring on 15 Sep 2020. A variety of differently processed netted leaves and bouquets including netted flax are for sale from Artiflax.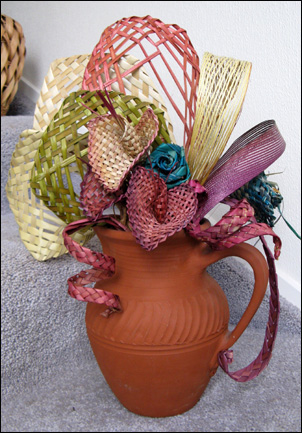 Participants in my flax weaving workshops have often asked me about netting flax, and a couple of commenters on my blog have also enquired about it. Netted flax is very attractive and is particularly popular for foliage in flower arrangements and bouquets. It also seemed ideal as a way of matching the feathers of a fantail.
The inspiration for designing and weaving the fantail resulted from my experience of the Christchurch earthquake in February, when life turned upside down. I was in my workplace on the fourth floor of a city-centre building when the earthquake struck. The building was badly damaged and has been inaccessible ever since. My home in Sumner was also badly damaged, is unliveable and needs to be demolished.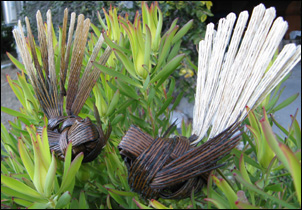 Two days after the earthquake, as I drove around the Sumner estuary, I noticed shags drying their wings as they always do on a rocky outcrop, and later — when I was staying with one of my sons in a rural cottage — a pair of fantails flitted and flirted around the place, bringing a sense of joy and peace. Seeing these birds living life normally and happily inspired me back into creativity and the flax fantail is the result. Thank you to all those people throughout New Zealand who sent aroha and good wishes, and offered accommodation and holidays after the earthquake. Your thoughts were very welcome and much appreciated.
Scroll down to leave a new comment or view recent comments.

Also, check out earlier comments received on this blog post when it was hosted on my original website.