28 September 2007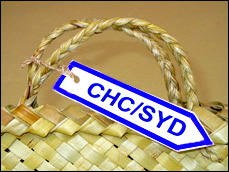 People regularly ask me if it's possible to take flaxworks into other countries and the short answer is 'yes', although I recommend that flaxworks are declared as you go through customs.
Countries such as Australia, the USA and Canada have strict conditions about the importation of certain types of plant materials as they may carry pests and diseases which could cause huge damage to their agricultural or horticultural industries. Countries in older parts of the world like Europe, Scandinavia and Asia are not so particular but if in doubt, do declare the flaxworks.
As Australia is one of the countries people often want to take flaxworks to, my understanding is that dried articles of NZ Flax are permitted entry into Australia. They do need to be declared on arrival so a Quarantine Officer can inspect them to confirm freedom of live insects, snails, soil, weed seeds and disease symptoms. You will need to provide some sort of documentary evidence to confirm the identification of the plant material as Phormium tenax – NZ Flax and to confirm that the flax is clean from insects and diseases, by detailing the preparation of the flax e.g, scraped and dried, or boiled and dried. If these are not commercial items you could package the items and hand label them yourself.
However, it's important that you check for your own individual circumstances with BICON, the Australian government's Department of Agriculture, Water and the Environment, to clarify your own situation.
Here's the process they gave me when I enquired about it:
Thank you for contacting the Department of Agriculture, Water and the Environment. Import conditions for all animals, plants and other biological products intended for import into Australia can be searched for and viewed on our Biosecurity Import Conditions database (BICON). BICON allows you to search and browse the import requirements for many commodities. Simply search BICON for your commodity and if a permit is required, you will need to register an account and apply for an import permit.

You can locate the import conditions for Phormium tenax depending on the end use as follows:

Go to https://bicon.agriculture.gov.au/BiconWeb4.0/
Select the search option "Scientific Name".
Type Phormium into the field "Enter a scientific name" and click "Filter".
Tick the box next to Phormium tenax then click "Search".
Select the search result relevant to your intended end use (e.g. Permitted plant fibres).

You will need to answer the questions asked within that BICON result to determine your specific importing scenario and what conditions apply. The import conditions applicable will depend on a number of factors, including how you'd like to import the plant material, quantity and means of transport. The "help" feature on BICON also provides some detail on how best to search for commodities on BICON.

If you have any further questions please contact the department using the 'Contact Us' tab in BICON, sending an email to imports@agriculture.gov.au or by calling 1800 900 090.
The USA also has strict laws. The USA customs website states that:
Every single plant or plant product including handicraft items made with straw, must be declared to the CBP officer and must be presented for CBP inspection, no matter how free of pests it appears to be.
Again, it is important to declare the items. I have anecdotal evidence from people who've declared flaxworks through the USA customs that they've not had any problems.
I'd be interested to hear of your experiences of taking flaxworks into other countries.
Scroll down to leave a new comment or view recent comments.

Also, check out earlier comments received on this blog post when it was hosted on my original website.