15 June 2007
I was interviewed recently by a reporter from the Christchurch Star newspaper, Cynthia Kepple, after I gave a couple of talks to the Canterbury Horticultural Society. The article she wrote may have some interest to readers, and Cynthia was kind enough to give me permission to post it on my blog.
Flax weaves its spell on Ali
by Cynthia Kepple, Christchurch Star, 15 June 2007
The waterfall is a frothy flow of lacy ribbonwood curls. They cascade gently down from beneath a soft framework of dainty tendrils of finely plaited flax, dyed earthy colours of green, gold, coral and a touch of blue — the palette of the New Zealand West Coast bush.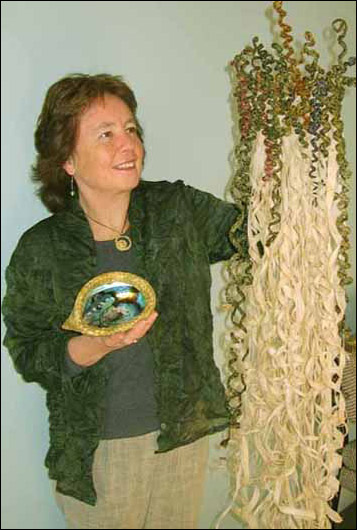 Waterfall is the latest work of flax weaver Ali Brown, just completed in time for Ashburton Society of Art's annual exhibition. Ali, whose flaxworks have found homes as far afield as Scandinavia, has been weaving flax for around eight years. After many years experimenting with different crafts, she has found something especially satisfying about this medium. "I particularly like the fact that I can make something from the ground up, just by going out, picking leaves that grow on plants in my garden and making something that is useful and beautiful from them entirely by hand, without any special tools or processes.
Her garden is in McQueens Valley, near Gebbies Pass. She and her husband grow hazelnuts, her husband has a native plant nursery and Ali herself has planted a selection of some of the 50 or so "special" flaxes, which she acquired from Landcare's Harakeke collection. These cultivars of Phormium tenax or Harakeke, a lowland or swamp flax, were traditionally grown by Māori weavers for their leaf and fibre properties, each suited to a specific purpose ranging from baskets (kete) to floor mats and cloaks. Phormium cookianum, or wharariki, the coastal or mountain flax, is rarely used for weaving as it has softer, thinner leaves and is not as durable.
Ali, who has no Māori heritage, has picked up her weaving skills from a variety of sources. "Mainly, I learn by playing around, and also from reading books and going on courses, and talking to people who have been doing it for years," she explains.
This latest work was inspired by well-known Māori weaver Ranui Ngarimu. "Recently I invited Ranui to my home because I knew she was looking to gather ribbonwood bark and I had a fallen ribbonwood tree. So we harvested it all and I learnt how to peel ribbonwood bark.
Revelling in her new-found material — "ribbonwood is not readily available" she says — Ali experimented with ways to exploit its natural qualities and delicate texture, teasing it into curls by dampening it and winding it around a dowel . "I just love the way it falls and curls, and I think it goes nicely with curls of plaited flax. It's like the long waterfalls in Arthur's Pass," she says of her completed exhibit.
The more you learn about this ancient craft the more it becomes obvious there is an infinite variety of options available to the weaver. "Some flax has higher fibre content, others have a longer leaf", she explains. Some is soft and suited to weaving the plaited tendrils that seem to be her signature motif. Other cultivars are strong and "quite sculptural". As well as the special qualities of each cultivar, flax can be treated differently once it is cut. Weaving done with very green flax will shrink as it dries, which may be desirable, depending on the project. Flax strips can also be boiled before weaving to "pre shrink" the strips, which means the weaving will be tighter. Boiled and dried strips can also be stored indefinitely. Then there is colour, which becomes paler as flax dries.
And no, those vibrantly coloured phormium cultivars we are so proud of in our gardens are not usually used for weaving, although they can be used for smaller items such as woven flowers (which Ali says are becoming popular as wedding bouquets) and for highlights in woven works. Boiled flax will dry to a paler colour after weaving, and won't darken if it is remoistened during the process. Flax takes well to dyeing though, and natural and chemical dyes are readily available and easy to use — and Ali has used them to great effect to add that rich burst of drama in Waterfall.
Ali specialises in one-off often whimsical pieces, which she sells through several galleries including Cave Rock at the Arts Centre, and a gallery in Wellington. "I like the creative art of weaving," she says. "I get inspiration from nature and the flax has its own character."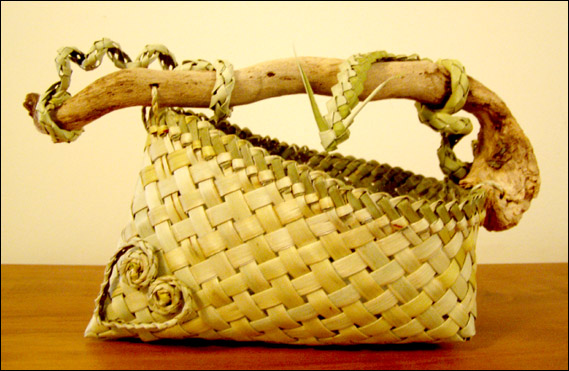 But there's another side to flax weaving, too. "There's something about the rhythm of weaving that, once one tunes into it, is very satisfying. Participants in my workshops have commented on how therapeutic flax weaving is, and I think there might be something in this," she says.
Flax weaving is a skill that is increasingly attracting attention. Ali's monthly workshops are very popular, as is her informative, beautifully illustrated website, which includes historical information and her take on Māori protocol, as well as instructions for cutting, preparing, weaving and dyeing flax. It has attracted interest from around the world, with one woman coming from Israel to attend a workshop and a long-distance phone call from an interested viewer in England. To take a peek for yourself. Visit Ali's website.
Scroll down to leave a new comment or view recent comments.

Also, check out earlier comments received on this blog post when it was hosted on my original website.