2 June 2007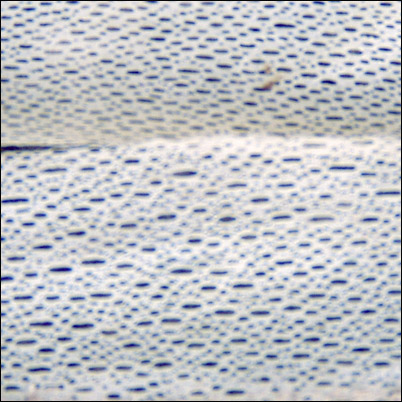 Have you ever wondered where the lacebark tree — a tree with bark that doesn't look lacey at all — got its name? The answer lies in the layer that is directly underneath the bark, which is the part of the tree that carries the sap. This inner layer of bark in a lacebark tree, or hoheria, and also in the ribbonwood, or manatu, is made up of layers of very thin white strips with many tiny holes that give it a lace-like appearance. These beautiful strips have traditionally been used by Māori for weaving small fine decorative baskets as well as a material for cloaks.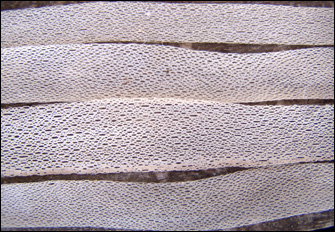 I was recently shown how to harvest the bark on a fallen tree. I'm told bark can also be harvested on a living tree. Ideally, only a small portion of the circumference of the tree is stripped — maybe something like a fifth or a sixth of the circumference — on the north side of the tree on a hot fine day in summer. Apparently, the tree will tolerate this degree of stripping, and can be harvested again in a couple of years' time.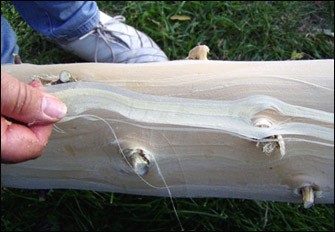 To get the bark off the trunk, two small vertical cuts are made in the bark and a knife pushed between the core wood and lace bark to start easing it away from the wood. The bark is then pulled up carefully from the tree trunk in a long strip. These strips of bark and inner bark are soaked in water for a few days, which is changed each day, until the inner lace bark starts peeling away from the outer bark and separating out into strips. On the fallen tree the bark can be stripped right down to the core wood although on a living tree the bark is only stripped partially down to the core wood.
When the lace bark dries it is quite stiff but it will soften again when dampened. It can then be formed into the shape you want, and if it is held in that shape while it dries, it will retain the shape. I've played around with it and love the way it can be shaped into soft lacy curls.
Can anyone add any further wisdom on harvesting the bark of lacebark or ribbonwood? Is there something I haven't mentioned? I've searched in books and looked on the internet, but can't find anyone who has written on this topic, and my own knowledge and experience on the topic is very limited.
Scroll down to leave a new comment or view recent comments.

Also, check out earlier comments received on this blog post when it was hosted on my original website.