1 April 2015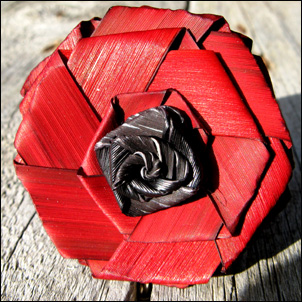 Each year in New Zealand, as ANZAC day draws near, red poppies, a world-wide symbol of remembrance for people who have lost their lives in war, start to appear. Poppies are usually made from paper or cloth, and lately knitted poppies have become popular. A few years ago I wove a poppy from flax for a friend and he told me recently that he continues to wear it every ANZAC Day. I have regularly been asked about weaving flax poppies, so here is how I made the one for him.

I used dyed flax, one leaf of red and one leaf of black. The red leaf is woven into a Chrysanthemum, instructions for which are on pages 5-8 in my book Weaving Flowers from New Zealand Flax or on the Christchurch City Libraries' website. Make a flat chrysanthemum by folding three to four rounds of petals. Cut off the pointed ends of the leaf at the centre once there are enough petals and keep the flower flat.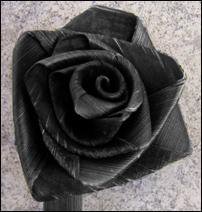 The black leaf is woven into an small English Rose, instructions for which are on pages 27-31 in the same book. The stem of the rose is pushed through the centre of the chrysanthemum, tied around the chrysanthemum and the ends of both flowers cut off, taking care to ensure that they are not cut off so close to the flowers that they unravel. A brooch backing or safety pin is stuck to the back with tape so the poppy can be worn on clothing.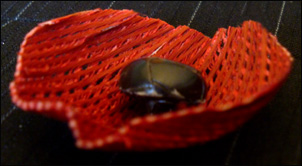 A simple flax poppy can also be made with netted flax that has been dyed red. Cut a circle out of red netted flax and moisten the flax. Push it into a round container that is smaller in diameter than the round of flax is, so that it will curve the edges up to make the shape resemble poppy petals. Take the round of flax out of the container once it's dry and attach a black button, preferably one with a shank, for the centre of the poppy. The button can be sewn onto the netted flax and a fastening attached onto the back.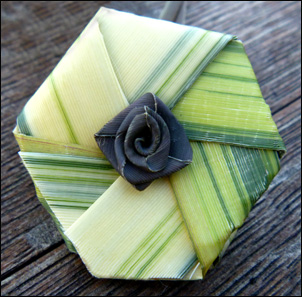 If you would like to weave a poppy without having to dye the flax, you could weave a white one with the leaf from a white hybrid flax, although greenish stripes may show where the back of the flax leaf is uppermost during the folding process. The central rose in the poppy illustrated here is made with brownish/black flax. The white poppy, which used to be seen by some as unpatriotic, and perhaps still is, conveys not only remembrance but also the hope for an end to all wars.
Scroll down to leave a new comment or view recent comments.

Also, check out earlier comments received on this blog post when it was hosted on my original website.