30 August 2009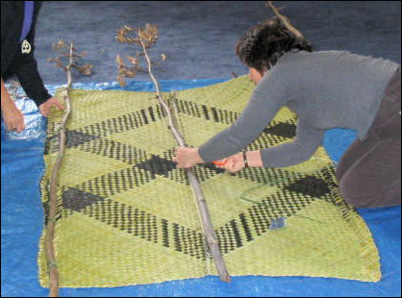 Do you meet in a flax weaving group that is open to new participants or visitors? If so, do add a comment on this blog post with the group's location, contact details and perhaps any other information you think might be of interest. If there are enough groups, I'll create a Flax weaving groups section on the new Links web page that I've just put up on this site.
A number of weaving groups have placed orders for my book, and this has reminded me of how many weaving groups there are in New Zealand. Also, I often receive email queries about all kinds of flax-related questions — many more email queries than blog comments — from people who might be seeking information about weaving groups, or recommendations on tutors in different parts of the country, or enquiries about certain types of weaving that I might be able to supply. Sometimes I'm in a position to help and sometimes I'm not, so I thought it was time I put up a links page.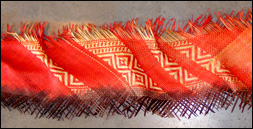 It was fun googling for links, and I came across a number of examples of flax weaving online that I hadn't seen before, like the wall hanging by Jess Parone, pictured on the right, and the sculpture by Jan van de Klundert, pictured below. In the last few years, I've noticed that more and more examples of flax weaving have been going online. There is always something new.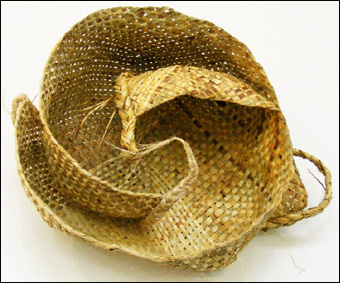 It's good to see the increasing interest and exposure of flax weaving, and I've also been surprised and pleased by the number of people from other countries who have bought my book. It seems that New Zealand flax is spreading all over the world. Also, I don't know whether it is the same in other cities, but more and more new houses in Christchurch seem to have flax plants in their front garden.
Do add a comment below about your flax weaving group, or a query about weaving groups in a particular location, or any other comment about weaving groups that you might want to share.
Scroll down to leave a new comment or view recent comments.

Also, check out earlier comments received on this blog post when it was hosted on my original website.