16 January 2010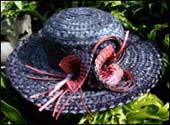 I've really enjoyed reading the many letters, emails and blog comments that other weavers have sent me since I published my book. It's fascinating to read about people's weaving experiences and to see photos of their work, especially when it's something I haven't tried myself, such as weaving flax head-gear.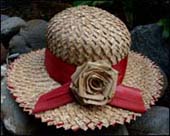 The photos I've used on this blog post were sent to me by Lesley Jenkins and Wayne Boniface of Norfolk Island. These beautifully-woven and decorated hats are made in a traditional Norfolk Island weaving style. Norfolk Island doesn't have much in the way of weaving material so the islanders use what they can, including banana tree bark, corn husk, drain flax (this is not Phormium tenax, it looks like bulrush to me), Moo-oo, or Cyperus Iucidus and palm leaf.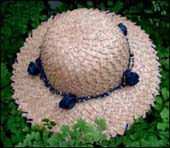 Lesley and Wayne use pandanas and Moo-oo which they gather from the cliffs around Norfolk Island. As with many plants used for weaving, Moo-oo has razor edges which are stripped off. It's then left to dry out for about ten days before use. The traditional method is to plait the material into one long flat strip, which is then wound around and sewn into a hat shape. Lesley and Wayne have used a variety of different styles of flowers to decorate their hats in attractive ways.

Another email I received recently was from Greta Nicholson, who enlisted the help of her son to make a video that shows her way of making roses. Greta's rose is made with one thin strip of flax which is folded in half and and then folded up concertina-like as if making a paper streamer. Greta calls this a small rose and says it's best to make it with thin, soft flax. I suggest the flax is softened first before making this flower. I made the ones illustrated here with strips about 1.5 cm wide which I folded 10-12 times each way before pulling the soft strip through. Pull the strip through slowly and be careful as it reaches the top so that you don't start pulling other side of the strip through. I agree with Greta that they can be a bit haphazard in appearance but they are easy and fun to make.
It's very gratifying to hear that the book has inspired or reinvigorated people's interest in weaving. Mina Timutimu of Whakatane writes:
I received your contact details from a colleague and have read your book hence the request to purchase same. We live in a remote rural area with access to flax of good quality because the community take good care of the resource and make sure that it is cleaned regularly. Your directions are easy to follow in fact the book is beautifully presented. As a result we have commenced weekly raranga (weaving) which have become very popular, not only with floral but incorporting kete, whariki, (mat), kete whakairo (intricate patterned kete) by experienced tutors."
It's especially nice to hear that the book works for children and beginners as well as experienced weavers. Ruth from Cambridge writes: "… some of our 4 year olds (I work in an early childhood centre) can even follow the pictures," and Bev from Opotiki mentions that … " your diagrams are so great that she was making the flowers using diagrams only."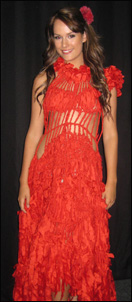 Writing a book can be such a long-winded, solitary business that it's great to get feedback, and all the positive feedback has inspired me to extend and update it at some point soonish.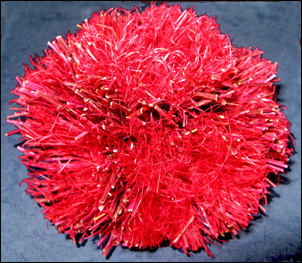 One of the additions will be a flax pohutukawa flower which I recently created for Miss World New Zealand 2009, Magdalena Schoeman, to wear in her hair in the Miss World Pageant in South Africa. It took a while to figure out how to make the pohutukawa and I don't currently have written instructions for it, but it will certainly feature in the updated version of the book. I was notoriously wrong in my predictions about how long it would take to publish the first version of the book, so I'm not making any predictions about when the updated version will be published! ??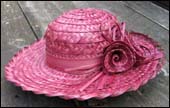 Addition 27 Jan 2010
I was delighted when Wayne offered to make one of his hats for me. The hat was delivered to me recently and fits perfectly. It's beautifully made and I especially like the pretty edge on the brim of the hat. Thank you very much, Wayne!
Scroll down to leave a new comment or view recent comments.

Also, check out earlier comments received on this blog post when it was hosted on my original website.