27 May 2020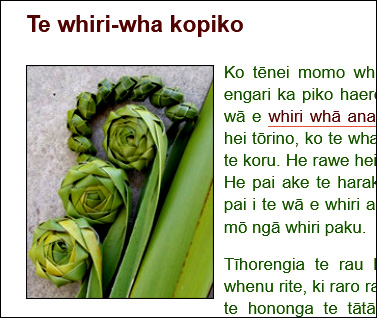 Following on from the first page translated into te reo Māori on my website, Ko te raranga i te putiputi, I'm pleased to say that there is now a second page of online instructions in te reo Māori. These instructions are for weaving a curved plait, which is suitable to make a koru, spiral and jewellery. The instructions for the curved plait, or te whiri-wha kopiko, in te reo Māori, are here.
After writing about my hope to have my website translated into te reo Māori in the magazine of Te Roopu Raranga Whatu o Aotearoa, I was contacted by Wi Pohatu who offered to assist with the task. Wi (Ngai Tamanuhiri / Ngati Kahungunu ki Te Wairarapa) is a weaver, a member of Raranga Whatu ki Kahungunu (Napier) and Te Muriwai Weavers (Muriwai, Gisborne), and is presently Principal of Te Kura Kaupapa Māori o Te Ara Hou (Napier). I was delighted to receive his very generous offer and this page is the first of the ones he has translated.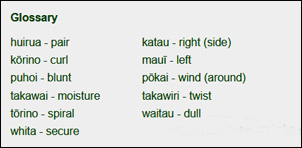 Wi also suggested adding a glossary to the translated pages, which is a great idea and I've added the glossary he provided at the bottom of the page. I find it very helpful and even if I'm not at the stage with my own te reo Māori to be able to fully read the translated page, I enjoy learning more weaving words in te reo Māori. For those of you who are also learning te reo Māori, I do hope you find these on-line flax weaving instructions in te reo Māori a useful resource and I'd appreciate any suggestions or feedback.
Scroll down to leave a new comment or view recent comments.

Also, check out earlier comments received on this blog post when it was hosted on my original website.