16 January 2018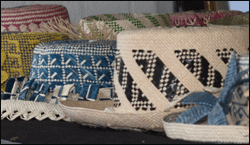 Weaving is very much part of Pacific Island cultures and I was keen to see the weaving in Rarotonga when I visited recently. I was expecting to see large market baskets and hats with circular crowns woven out of green palm leaves but these were very scarce. What I did see was intriguing and quite unexpected. The main type of weaving practised now is with very fine strips of white palm leaf, sometimes dyed for patterned weaving, used to weave hats and fans.
I first saw this weaving at Punanga Nui Market, the Saturday market, where one stall had numerous hats and fans woven with these fine palm strands. Many of the hats and fans were woven in coloured patterns and all were made with very fine strips.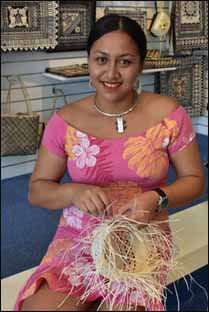 I then visited the shop Pacific Weave, where weaver Nanave Taime was weaving a basket with fine white strips. I wondered what the material was and how she managed to get it so white. Nanave was very happy to share her knowledge, and told me me that the material was boiled palm leaf. I knew that boiling NZ flax, the usual material I weave with, doesn't whiten it to this extent, so I was interested to try this process for myself. Later that day I tried boiling both dry and green palm leaf but this didn't make any difference to the colour of the leaf.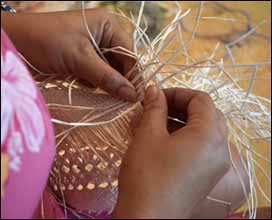 Out and about the next day, I discovered Tarani Crafts and Pearls in downtown Avarua, just past the roundabout heading towards Muri beach, and had an interesting discussion with Tarani Napa, the owner, who is very knowledgeable about traditional weaving. Tarani also has an outlet at the Saturday market.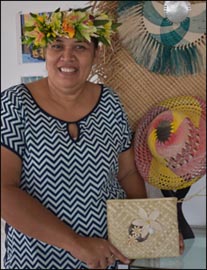 Tarani explained that the white material is part of the new leaf, or rito, of the coconut tree before it becomes green. The new leaf is peeled apart into two different types of strands. The outer fibre is coarser and creamy light fawn and the inner fibre, which is lighter, is boiled to make it white. The strips are very thin and there's a lot of work involved in getting enough strips to weave with. It's mostly older weavers from the outer islands — which are covered in coconut palms and a good source for rito — who weave hats.
As I saw some evidence of what I think are earlier types of weaving, such as basic market baskets and fans, and was interested in discovering how the weaving style had changed over time to a more intricate and delicate style. I wonder if this is partly due to the influence of missionaries, as the white hats and fans are often worn for church-going. I searched in the Rarotongan library and museum for information about this but found nothing. If anyone has any more information on this change of style I'd be very interested to hear about it.
Scroll down to leave a new comment or view recent comments.

Also, check out earlier comments received on this blog post when it was hosted on my original website.